Archive for month: September, 2014
https://www.denbow.com/wp-content/uploads/2014/09/Kamloops-EcoBlanket-2014-09-4-1024x768.jpg
768
1024
Dean Richards
https://www.denbow.com/wp-content/uploads/2020/03/denbowipema.png
Dean Richards
2014-09-29 13:59:39
2016-02-23 15:42:01
Now is the Time to Seed
"Highway creek crossings often go unbeknownst to the average traveller — you usually cruise over them without even noticing. There are nearly 2,800 provincial highway bridges, and most are not eye-catching landmarks like the Port Mann and Lions Gate bridges. Sure, these lesser known bridges may not be as big, but they still cross waters that can pack a real wallop, especially when the spring melt sends waters surging from the mountains.
Such is the case at Charles Creek, near the seaside residential community of Strachan Point, located between Horseshoe Bay and Lions Bay off the Sea to Sky Highway.
Destructive debris flows occurred at Strachan Point in the 1970s and 1980s, wiping out bridges and damaging the highway and local community. To counter these flows, the Ministry of Transportation and Infrastructure constructed a debris flow catch basin facility in 1985. The basin catches debris from slides while allowing water to flow into the ocean. Our maintenance contractor cleans out the debris periodically to maintain capacity for future slides.
While debris flows no longer pose a safety risk, large amounts of water still travel along Charles Creek, scouring the creek bed and undermining its embankments. Despite the catch basin, erosion remained a threat to the highway bridge, a CN Rail bridge, and two private bridges providing access to 17 homes.
The threat ended with the final step to beat Charles Creek erosion, completed in fall 2012. Work to prevent erosion included building up the creek bed, widening the creek, reinforcing the creek bed with boulders and concrete-encased rock and reinforcing the embankments with concrete blocks along each side of the wall.
Denbow then applied Terraseeded Rip Rap Grout into the voids on both sides of the channel.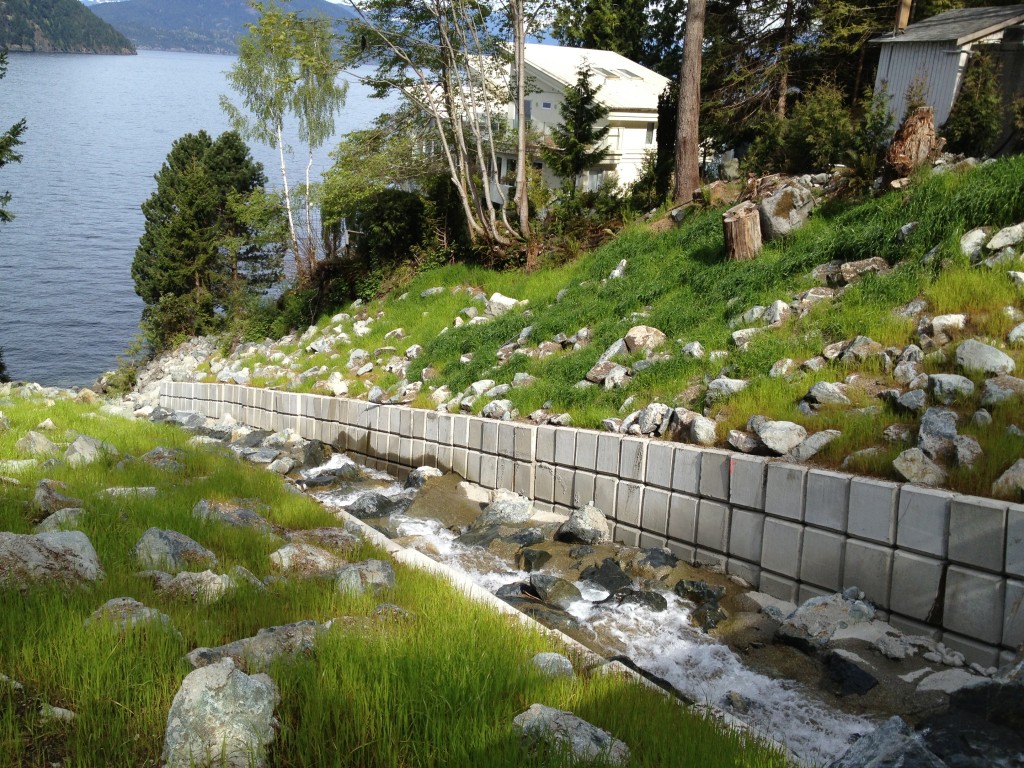 This time lapse video shows the entire project in 1:40!
Highway creek crossings often go unbeknownst to the average traveller — you usually cruise over them without even noticing. – See more at: http://tranbc.ca/2013/02/27/protecting-sea-to-sky-highway-strachan-point-from-erosion/#sthash.YDlDWy7L.dpuf
Highway creek crossings often go unbeknownst to the average traveller — you usually cruise over them without even noticing. – See more at: http://tranbc.ca/2013/02/27/protecting-sea-to-sky-highway-strachan-point-from-erosion/#sthash.YDlDWy7L.dpuf
Highway creek crossings often go unbeknownst to the average traveller — you usually cruise over them without even noticing. – See more at: http://tranbc.ca/2013/02/27/protecting-sea-to-sky-highway-strachan-point-from-erosion/#sthash.YDlDWy7L.dpuf
Highway creek crossings often go unbeknownst to the average traveller — you usually cruise over them without even noticing. – See more at: http://tranbc.ca/2013/02/27/protecting-sea-to-sky-highway-strachan-point-from-erosion/#sthash.YDlDWy7L.dpuf
https://www.denbow.com/wp-content/uploads/2014/09/IMG_0345-1024x768.jpg
768
1024
Dean Richards
https://www.denbow.com/wp-content/uploads/2020/03/denbowipema.png
Dean Richards
2014-09-24 09:30:49
2016-02-23 16:08:56
Strachan Point Erosion Control