Archive for month: December, 2016
https://www.denbow.com/wp-content/uploads/2016/12/Top-applications-for-structural-soil.jpg
305
770
Dean Richards
https://www.denbow.com/wp-content/uploads/2023/05/Transparent-LOGO-Horizontal-300x96.jpg
Dean Richards
2016-12-06 15:18:16
2017-03-20 14:57:09
Top Applications for Structural Soil
https://www.denbow.com/wp-content/uploads/2016/12/rotary-christmas-parade.jpg
300
600
Tanya Richards
https://www.denbow.com/wp-content/uploads/2023/05/Transparent-LOGO-Horizontal-300x96.jpg
Tanya Richards
2016-12-03 14:02:12
2017-01-06 20:48:19
Rotary Christmas Parade Tonight!

Where is Structural Soil Used?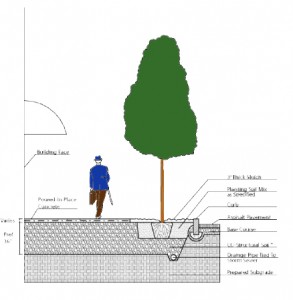 After some experience with gardening and landscaping, you will find that in some cases, standard soil just won't do. You may need to provide a better, more solid base for large plants such as trees and bushes to grow successfully. This is where knowing about structural soil will help.
Structural soil contains larger solid particles and provides more structure that normal soil. These added solid particles create a firm structural base while allowing plant and tree roots to weave around the soil pockets. Structural soil is comprised of a mixture of gap-graded gravels, which are typically made from crushed stone, a hydrogen stabilizing agent and clay loam. This type of soil is perfect when planning to plant trees, especially beside pavement sidewalks or roadways.

Changing Landscaping
Can you picture walking on a beautifully, manicured concrete walkway? Most likely you picture a tree beside this walkway that helps to shape this beautiful image. Structural engineers more often than not will focus on the construction of the concrete walkway or the surrounding road, neglecting the need for a green environment. For this reason, landscape designers are quite important, as they know to choose the right soil for the right result.
By working together with structural engineers, landscape designers are able to successfully grow trees in paved areas. This is normally a challenge due to inadequate soil volume, which is a major requirement for root growth. Soils found under the pavement are usually very compacted, which is the reason why they are unable to support root growth. Only a few trees grow under pavement and when they do, they grow very poorly, dying eventually. It is also worth noting that with the wrong soil the pavement ends up being affected by the root growth. That is why there is need for use of structural soil.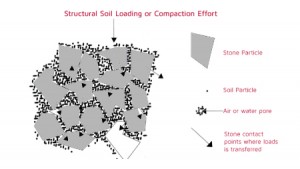 Best Places for Structural Soil
Structural soil has become the best solution for tree-growing in urban settings. This type of soil has been proven to improve tree growth in paved areas, therefore it is the best way to promote street tree planting. Structural soil is used to provide a solid base, which is meant to support masses and at the same time allow for the growth of roots. The result is a perfect crack-free pavement, with a healthy tree growing as expected.
Not all structural soils are the same. They come in different specifications, which are suited for various weather conditions. All the elements that make up structural soil are mixed together. The mix retains a void to allow for water and air movement and gives room for root growth. When used properly, structural soil can allow deep penetration of roots so as to avoid surface heating, which often affects growing trees. Encouraging deep penetration of roots is also good to allow the roots to find sufficient water, necessary for tree growth. This is a great benefit since trees whose roots grow deeply are less likely to lift and crack pavements, leaving you with a great looking pavement and an amazing green environment.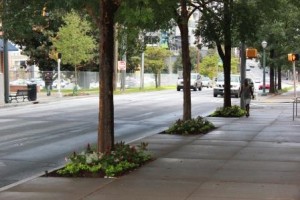 Both structural engineers and landscapers benefit from the use of structural oil. Engineers appreciate a firm foundation for the pavement and landscapers realize trees with sufficient root volume, air and water for growing trees. Structural soil is becoming more recognized in urban settings as it provides an excellent solution for the people within these areas. It satisfies the need to enjoy good roads and a perfect environment at the same time. It is a lasting solution for both structural engineers and landscapers.

Save
https://www.denbow.com/wp-content/uploads/2016/11/structure-zone-feature.jpg
305
770
Dean Richards
https://www.denbow.com/wp-content/uploads/2023/05/Transparent-LOGO-Horizontal-300x96.jpg
Dean Richards
2016-12-01 09:08:29
2016-12-01 09:08:29
Where is Structural Soil Used?