Erosion Control
As land development happens in hilly countryside, more erosion control on steep slopes and embankments is needed. Especially in areas that experience heavy rainfall. Steep slopes and embankments that have no vegetation or cover are especially vulnerable to erosion issues. Erosion can cause damage to not only the landscape, but any infrastructure surrounding the project.  It is important to protect the hillside from erosion during and after the project is complete. 
Erosion is basically the displacement of soil from one area to another. On steep slopes and embankments erosion is caused primarily by water, especially by heavy rainfall. Rain that falls onto the exposed ground dislodges soil particles which are then carried away down the slope by the flowing water. However, it is the resulting destabilization of slope that creates an even greater danger as rocks and trees roots become exposed.
There are several ways of controlling erosion on steep slopes and embankments.
Natural Solutions
The most effective, natural way to control soil erosion on steep slopes and embankments is to plant vegetation. Not only will the grass, fescue and leaves help to slow down raindrops as they fall, the roots of the plants will also help to hold the soil together, making it harder for water to wash it away.
However, when planting vegetation on a slope to stop erosion, you need to keep in mind that what you're planting is just as important as the planting. Though grasses can create a groundcover that can absorb some moisture, they have less effective storm water filtration ability compared to native ground cover.  Various typical erosion control seed specifications are available as well as custom seed blends to mimic the native grasses in the area.

Artificial Solutions
Other than planting vegetation, there are also a variety of artificial solutions you can use. For instance, the use of geomats has become popular over the last few years. Geomats are water permeable polymers that are used to help fix soil elements, grass and small plant roots, and have been shown to work extremely well, especially on barren slopes that have no vegetation. There are even biodegradable geomats that are now being produced that are designed to prevent erosion and give freshly planted vegetation a chance to grow.
Building Terraces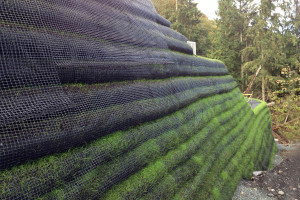 Building terraces is also another way to help prevent soil erosion. When most people think of terraces as a method of erosion control, some may think of the incas in Peru. There the natives implemented the early methods of erosion control on the Andes mountains for many centuries. Terrace walls help to hold soil in place while providing a convenient surface to plant a variety of plants. Building terraces can be as simple as using a couple of wooden blocks to create a terrace wall, or it could be more sophisticated and involve the use of engineered stones, concrete retaining wall blocks or a living green wall solution.
Soil Composition Enhancement
You could also control erosion by controlling the soil itself. As heavy rain tends to be the biggest culprit for soil erosion on slopes and embankments, by controlling the composition of the soil, you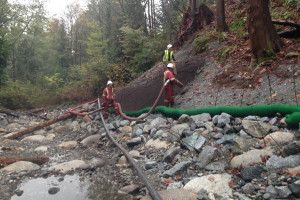 could control the effect that water has on it and therefore the likelihood that it will be eroded. Soil that is high in organic material tends to absorb more water, therefore, using organic material such as compost, aged mulch, or a manure can go a long way in preventing soil erosion.
The best solution (or multiple solutions) is best determined by evaluating each slope individually.
Save
https://www.denbow.com/wp-content/uploads/2016/10/Erosion-Control-Steep-Embankments.jpg
290
770
Dean Richards
https://www.denbow.com/wp-content/uploads/2023/05/Transparent-LOGO-Horizontal-300x96.jpg
Dean Richards
2016-10-04 10:50:47
2016-10-04 10:50:47
Erosion Control on Steep Slopes and Embankments